Bill's Selected Photos
One of the rewards of living near the Wanaque Reservoir,
is the ever-changing scene.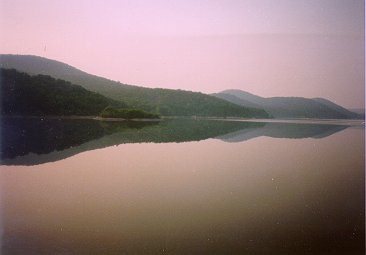 We may be presented with an early-morning reflection
of mist-shrouded hills,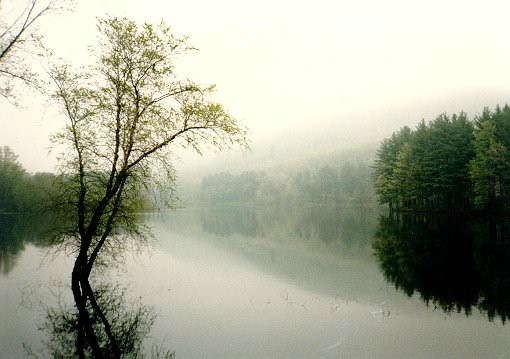 or a slim tree with its feet in calm water after days of heavy rains.
This house itself presents some worthwhile sights: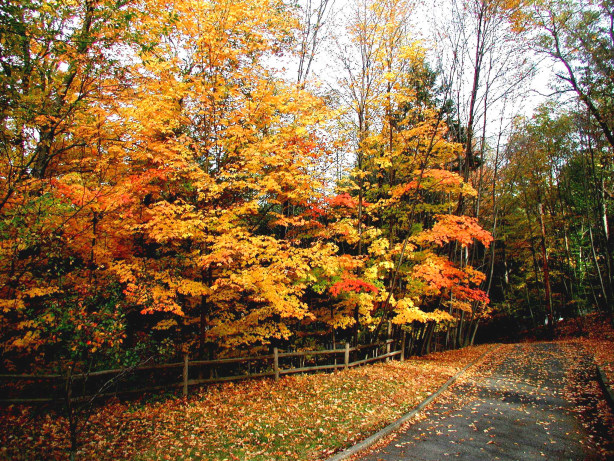 For instance, in autumn the trees that border the driveway develop wonderful colors.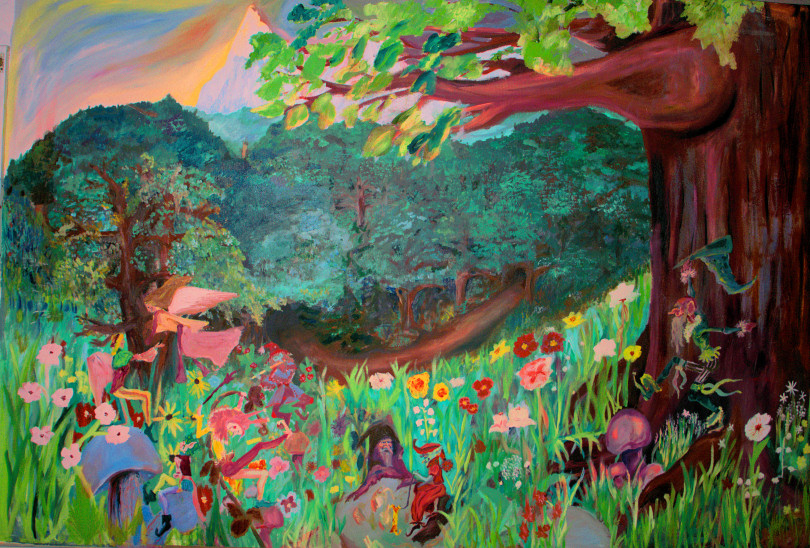 And the house contains a few strange and interesting things,
like the painting left by a former occupant on one wall of the basement.
When I moved into the house more than twenty years ago,
there were some marvelous plants that
seemed to be growing wild.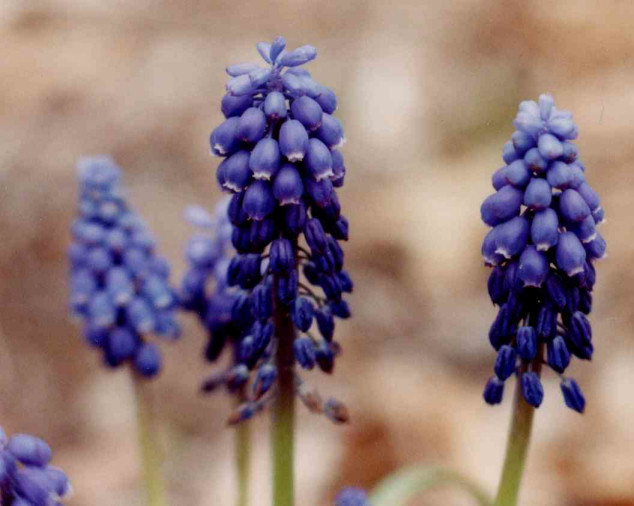 For example: Next to the driveway were Grape Hyacinth
(shown here many times their three-inch size).
Sadly, they are now gone, along with
the bountiful lilac bush and the once-plentiful Tiger Lilies.

But other beautiful things still grow wild, like the little purple flowers
that populate the unkempt lawn each spring.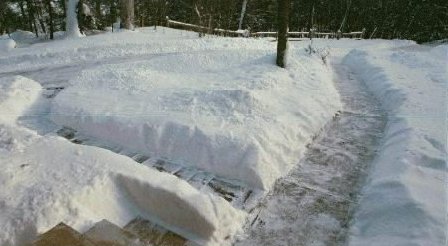 Of course, almost every winter we pay a price for all of that.
And sometimes the snow is
really
deep.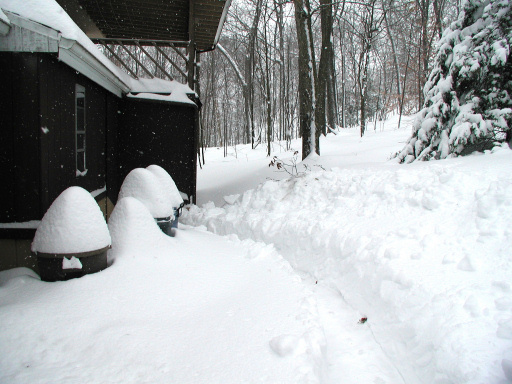 During the winter, the local deer sometimes get very close to the house
on their quest for food. (I have to get pictures like these through a window,
because they are
v ery
skittish.)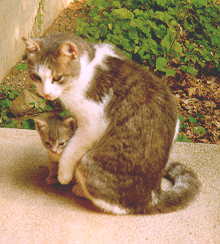 Some years ago, a young cat adopted me and chose the area under my deck
to have her many litters of kittens.
I have to admit though, that she was a good mother.
She disappeared one day within days of giving birth.I miss her.
I don't know whether she was kidnapped or she
tangled with the wrong animal -there's
lots
of wildlife in this area,
including bears, wild turkeys, raptors, and many more.
I miss her.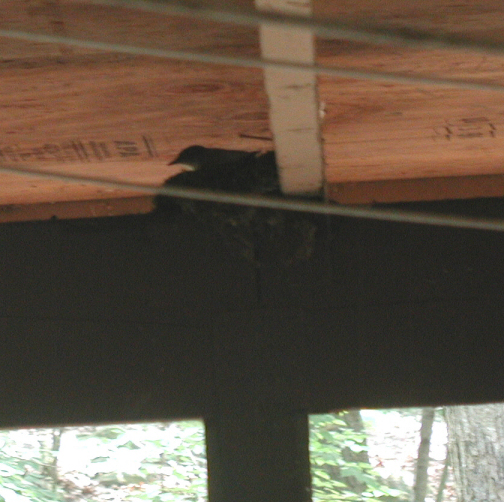 Sometimes we have a tenant or three on the rear deck.
The eggs don't always hatch, because sometimes a bluejay finds the nest,
but in a few of the years, chicks have appeared.
Fran always has at least two cats around. Here, you see one past and one present.
I have my own names for them, representing their personalities.
On the left is "The Spook", and on the right is "The Terror'.
In recent years, I've read to school children in a nearby town.
In the first year, I read to a fifth grade class,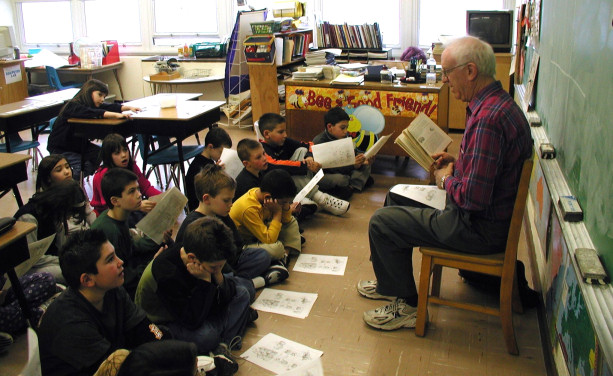 but then I switched to second graders.
I like them much better, because
not only are they more attentive and appreciative,
they're also cuter.
Although I spend most of my time at the house in New Jersey
rather than the Manhattan apartment (It's Fran's apartment;
we decided to keep it when we married),
New York City has always been one of my favorite places.
The City changes constantly. Some of the changes are improvements,
but others just accelerate the process
that's making New York look more and more like any other city.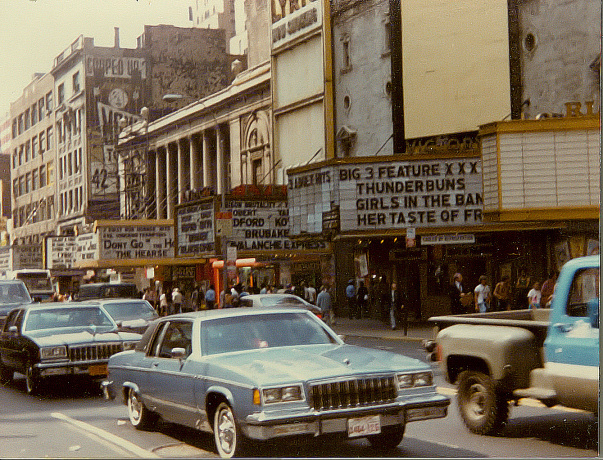 I miss walking along the pre-Disneyfied 42nd Street
and seeing the hustlers and loiterers,
or going into one of the theaters that lined much of one block.
Many showed classic films that were unavailable elsewhere.
One recent Christmas, we went to see
the window displays in midtown Manhattan.
Some of them were in keeping with the season,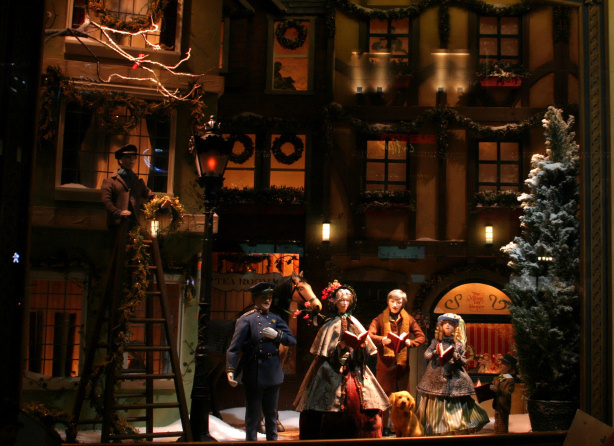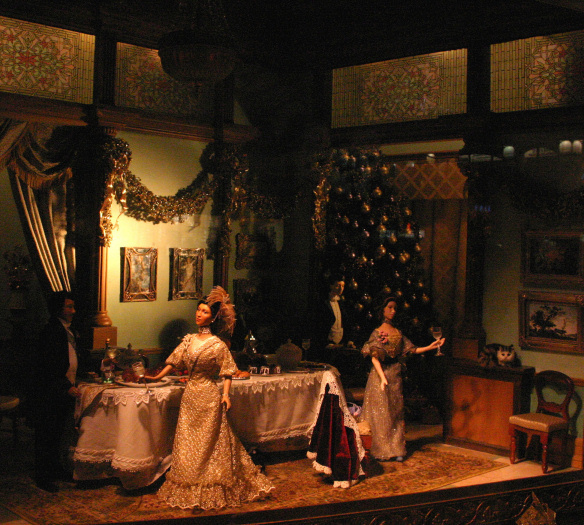 but as in prior years, there were others that were interesting and puzzling.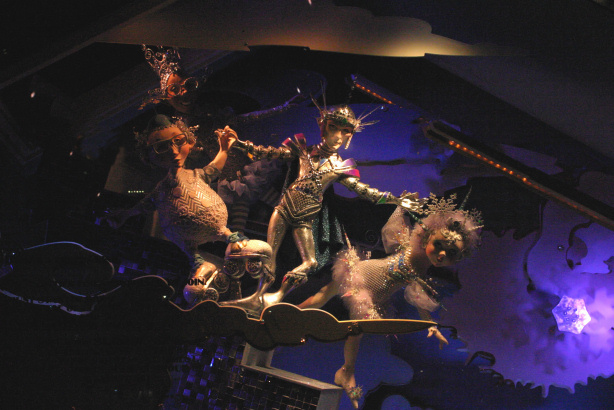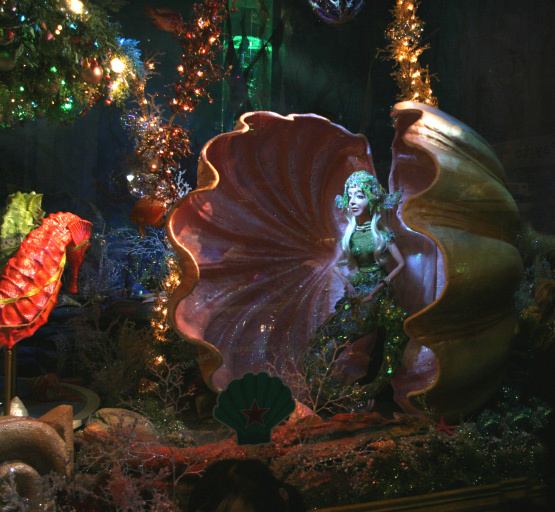 Before moving to Wanaque, I lived in Hackensack.
There weren't many remarkable things to see there,
but one winter night the scene outside my apartment window
was reminiscent of a scale model village.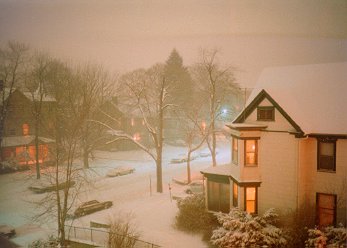 My last surviving aunt (since deceased) lived in Queens, New York City.
One day at twilight, I took the photo below from her apartment window,
letting the camera choose the exposure.
Because of the large expanse of sky,
the camera's metering produced a surreal result -
daytime above, nighttime below. Shades of Magritte!
I spent the last ten years of my paid working life traveling almost constantly,
so I was loathe to roam very far once I retired.
We did take a few distant vacations, though: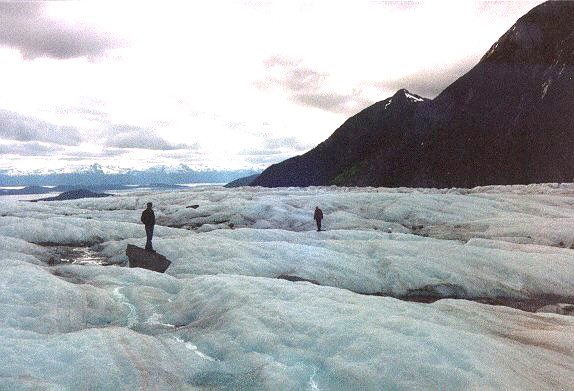 Near Juneau Alaska, we were able to walk on a glacier,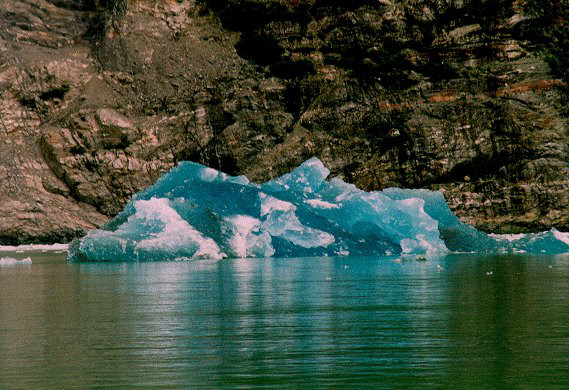 and on a cruise along Alaska's Inland Passage, we saw that the icebergs really are
just about as blue as this photo depicts.
One summer we went to Canada, and stopped for a few days at
a town on the Canadian side of Niagara Falls.

The falls were far more impressive than we had expected.
Throughout our trip, we were impressed by
the politeness, helpfulness and generosity of Canadians.
Also, Canadian fruit reminded us of what fruit
should
taste like,
and used to in the US, though it no longer does.
---
Last updated May 27, 2009